A quick note to inform you that our beeswax food wrapsare made with care at our Saint-Sauveur facilities located in the province of Quebec. Despite all of the steps involved during production (cutting, waxing, cleaning, folding and labeling) our team can allow small imperfections to escape. At times voluntarily, for example when there is a subtle defect in the fabric printing, but also because they are handcrafted. Please note that this does not affect the quality of your new product and even gives it a unique characteristic! The paper on which you are reading this messagehas been printed on seeded paper. The following is information regarding its use.
Seeded paper (or plantable paper) is a handmade paper embedded with small flower seeds (autumn Adonis, clarkia, sweet alyssum, common daisy, sweet William catchfly and snapdragon.) It isbiodegradable and made in Canada with post-consumer materials (no trees cut!) When the paper is well-moistened and placed in the soil, the seeds grow, and the paper decomposes over time. It is easy to plant and cultivate.
LIST OF SUPPLIES
Planters pot (or an outdoor area)
Good quality garden soil
A piece of plantable paper
Water
A sunny corner
Step 1 - Prepare your pot
Fill your pot 2/3 of the way with good quality soil mix. The earth should be lightly packed, but not too much so. The paper can be planted indoors or outdoors, depending on climate conditions.
Step 2 - Plant the paper
Take your plantable paper and tear it into small 1-inch pieces. Cover the surface of the pot with the paper. The pieces of paper may overlap. Spread out 1/8th of an inch layer of soil over the pieces of paper and press down gently.
Step 3 - Water generously
After planting the paper in your pot, it is crucial to water well and keep the soil moist. You want the paper and soil to stay moist but not too wet. During the first 10 days, keep the soil and paper moist at all times. Water is necessary for germination.
Step 4 - Care after germination
When small shoots appear, continue to keep the soil (and paper) moist, but be careful not to overwater. Once stronger plants appear, water as needed.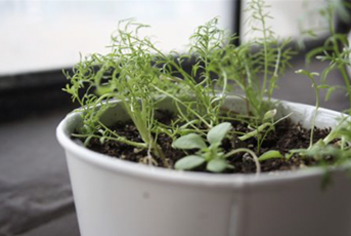 After a couple of weeks...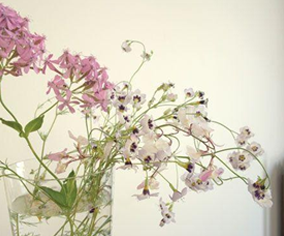 Example of cut flowers